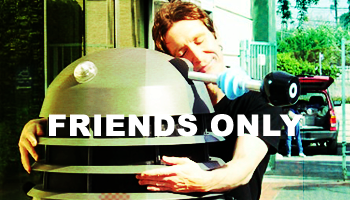 Comment to be added, and tell me a bit about yourself. A little about me:

I'm told I'm human, but lately I've come to believe that I'm either Obi-Wan Kenobi's past life, or a Fob-watched Time Lord. Or maybe I actually am a human, and the Doctor will be 'round sometime to take me the hell away from Earth. :D

While I'm here, I spend my time having a life, and alternately not having a life.

Things about me:




I am unabashed in my love for rain, I love no other kind of weather more.


I love, love, love to write--mostly flash fiction, though I have written the occasional short story and some poetry now and again. I also write fan fiction.


I like foreign films, especially when they make me think about nothing else for days afterward.


I have a B.A. in History, and I hope to put my degree to use in archival work, museum studies, or even as a research assistant, maybe.


I'm very laid-back, easy like Sunday morning, as 'they' say.


I'm not religious. I'm more spiritual, I guess. I take bits from different philosophies (mostly Far Eastern doctrines) and come up with my own crazy belief system that suits me quite well.


I'm very liberal, but I'm not against hearing other perspectives. What's the saying? 'I disapprove of what you say, but I will defend to the death your right to say it.'


I play the clarinet and the mandolin.


I like to roleplay, mostly just on LJ.




For the most part, my journal consists of musings on life, people I meet, films, shows, and music; I post music recs (and I listen to a wide variety of music), photos, film recs, polls, my favorite quotes and poems, etc. I do talk about university, but anything heavier is usually filtered. I love Russian history, German history, and British history. I have severe wanderlust. I am also bisexual. If you have a problem with that, don't even bother friending me. I'm not interested in bigoted, intolerant people. The world needs love, and I prefer to spread that, not hate.

Any questions? :)

Feel free to comment.