Another post today, because I have to honor the occasion: LJ tells me that today, in 1993, The X-Files first aired. I have such unadulterated, unwavering love for that show. It was the first show I ever got "hooked" on, and I remember very vividly the summer that I got hooked. It was 1997...I was just about to enter seventh grade, and little did I know how much that show would come to help me and be some sort of odd touchstone in that particular school year.

So to celebrate, I have pics and quotes below the cut.

My favorite episode? I cannot choose, I refuse to. When you have a show you love and are unashamedly obsessed with, it's rather hard to pick just one episode, especially when there were so many good ones. Off the top of my head?

Bad Blood
Pusher
Home
Memento Mori
Small Potatoes
Detour
Post-Modern Prometheus
Triangle
Dreamland I & II
Rain King
Tithonus
The Unnatural
Orison
All Souls
Ice
Beyond the Sea

...lots more.

Which leads me to my current quandary; I received a $50 giftcard for Barnes & Noble from my aunt and uncle (the sweetest people, and I miss them terribly; they live in Ohio, so I rarely get to see them) for my college graduation. I really, really want to buy A Tree Grows in Brooklyn, and spend the difference purchasing a DVD I've been lusting after. The problem is that I'm lusting after lots of DVDs. I thought about getting a season of The X-Files; I only have Season 3, and logically, I really need Season 1, but Seasons 4-6 are my favorites. I hate making decisions like this. There are also some other shows and movies I want, so I might decide to just put The X-Files on the backburner for now. But I can't...damnit!

Anyway, enjoy my tribute to one of the best shows ever made.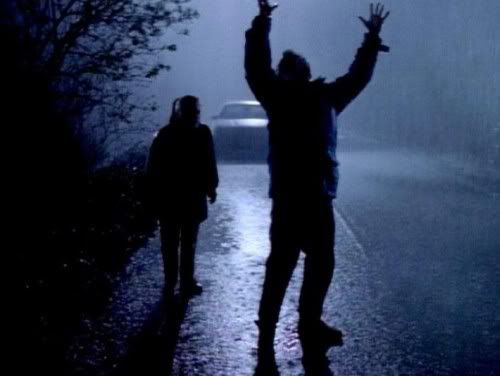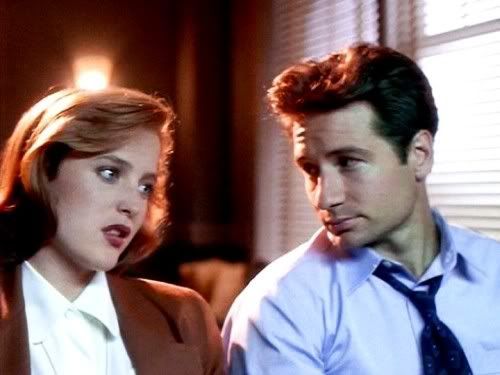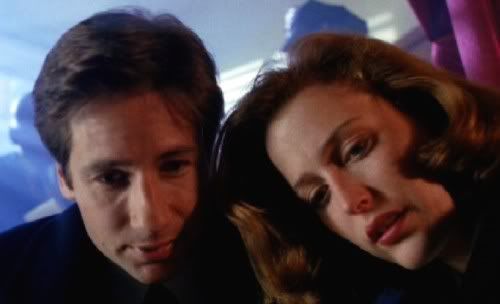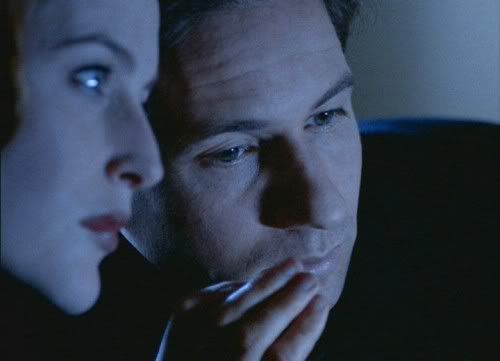 QUOTES

Mulder: "Yeah... he wants advice. Dating advice.
Scully: "Dating advice? From whom?"
Mulder: "Yours truly. Hello? Hey, Scully. Scully, you there?"
Scully: "I heard you. Mulder, when was the last time you went on a date?"
Mulder: "I will talk to you later."
Scully: "The blind leading the blind."

Mulder: "I think that what we *may* be looking at is what appears to be a series of vampire or vampire-like acts."
Scully: "On what do you base that?!"
Mulder: "Uh ... well, on the corpses drained of blood and the fang marks on the neck. But, as always, I'm very eager to hear your opinion."
Scully: "Well, it's obviously not a vampire."
Mulder: "Well, why not?"
Scully: "Because they don't exist?"

Mulder: "Were you abducted?"
Amanda: "Huh? No, no, he dropped by my apartment one day, and one thing sort of led to another..."
Mulder: "But the baby's father is an alien?"
Amanda: "No, no, I didn't say he was an alien, I said he was from another planet. His name is Luke Skywalker. He's what's known as a Jedi Knight."
Scully: "Did he have a lightsaber?"
Amanda: "No, he didn't bring it."

Scully: "Have you thought seriously about dying?"
Mulder: "Yeah, once, when I was at the Ice Capades."

Scully: "Mulder, it is such a gorgeous day outside. Have you ever entertained the idea of trying to find life on this planet?"
Mulder: "I have seen the life on this planet, Scully, and that is exactly why I am looking elsewhere."

Scully: "Oh my God, Mulder. It smells like... I think it's bile."
Mulder: "Is there any way I can get it off my fingers quickly without betraying my cool exterior?"

Mulder: "Dear Diary, today my heart leapt when Agent Scully suggested Spontaneous Human Combustion."

Scully: "Your contact, while interesting in the context of science fiction, was, at least in my memory, recounting a poorly-veiled synopsis of an episode of Rocky and Bullwinkle."

Scully: "Well, it seems to me that the best relationships--the ones that last--are frequently the ones that are rooted in friendship. You know, one day you look at the person and you see something more than you did the night before. Like a switch has been flicked somewhere. And the person who was just a friend is... suddenly the only person you can ever imagine yourself with."