FUNNY CAKE

So what makes it 'funny'? Well, the fact that first of all, no one can decide whether it's pie or cake. It's...cake in a pie crust. Secondly, you put the batter into the pie crust first, pour the chocolate syrup over it, and then the syrup drizzles down while it bakes (creating a marbled effect with the cake) and when it's done, there's a layer of fudge on the bottom. Everyone has their own preference, but most people seem to prefer this when it's been chilled for a few hours, or overnight, to allow the fudge layer time to harden and thicken.



SYRUP

1 1/2 c. brown sugar
1 1/2 c. hot water
3/4 c. cocoa
1 1/2 tsp. vanilla

Bring to a boil and set aside to cool.

BATTER
1 1/2 c. sugar
1/2 c. melted shortening
2 eggs
1 1/4 c. milk
1 tsp. vanilla
2 1/2 c. flour
2 1/2 tsp. baking powder
1/4 tsp. baking soda
1/2 tsp. salt

Pour batter into unbaked pie shell. Spoon chocolate syrup over batter. Bake in 400 degree oven 15 minutes, then turn oven down to 375 and bake until done (about 25-35 min., so keep a watchful eye on it or it will dry out). Makes 2-9" or 1 deep 10" size pies.

You will have lots of extra batter. Unless you have one really deep pie crust and pan, you'll actually get two pies out of this. So you can make two funny cakes, or get inventive with the extra however you please.

NOTE: When you're baking this, prepare for the likelihood that some of the chocolate syrup will spill over the edges while it's baking, so I recommend putting the funny cake on a foil-covered baking sheet as a preventative measure.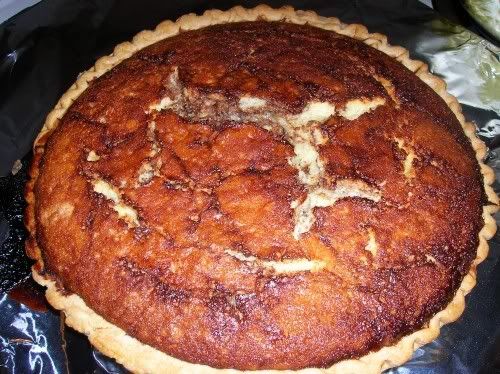 Doesn't look like much on the outside...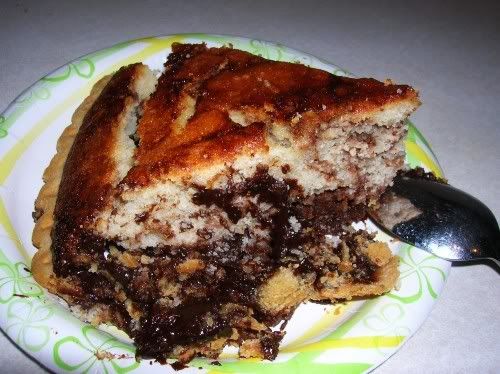 But positively sinful inside. :D